This event is designed to celebrate the significance of inclusive development through the lens of entrepreneurship. It's a unique opportunity to engage with a vibrant community of impact-driven individuals who share a commitment to shaping a more inclusive and impactful future.
This gathering will bring together ecosystem partners including incubators, accelerators, investors, and other key stakeholders. Our conversations will center around the concept of inclusive development—how entrepreneurship has the power to transcend boundaries, uplift communities, and drive transformative progress across a range of sectors. While our participants are mostly from health-related and HIV-AIDS-related sectors, we extend a warm welcome to attendees from all sectors. This inclusivity is aimed at enriching networking experiences and encouraging the exchange of insights and experiences across various focus areas.
𝗗𝗮𝘁𝗲: September 7, 2023
𝗧𝗶𝗺𝗲: 6:00 PM
𝗩𝗲𝗻𝘂𝗲: R Bar Lobby Level, Renaissance Ratchaprasong Bangkok Hotel
Our invitation is open to all and extends to a broader audience of individuals and organizations committed to positive impact through entrepreneurship.
Let's collaborate, innovate, and champion an inclusive future together. We look forward to seeing you on September 7th
ลงทะเบียนเข้าร่วมได้ตั้งแต่วันนี้ – 3 กันยายน 2566
คลิกที่นี่เพื่อลงทะเบียน
คลิกที่นี่เพื่ออ่านเพิ่มเติม
สามารถติดต่อสอบถามข้อมูลเพิ่มเติมที่อีเมล : joy.munthamraksa@aspeninstitute.org
---
ขอบคุณที่มา : ANDE East and Southeast Asia – ESEA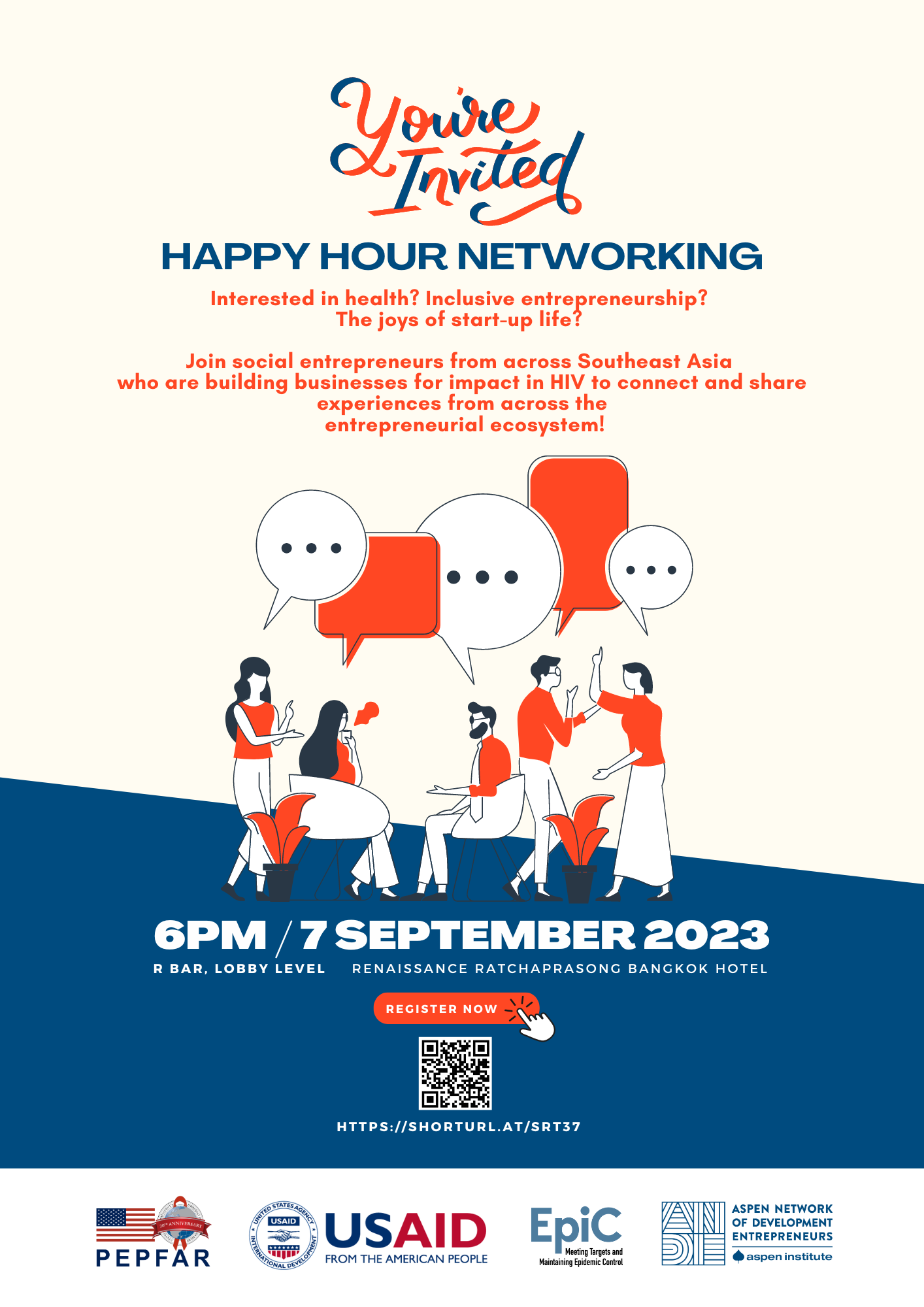 กันยายน 7 @ 18:00
กรุงเทพฯ, โรงแรมเรเนซองส์ กรุงเทพฯ ราชประสงค์
FHI 360, ANDE East and Southeast Asia